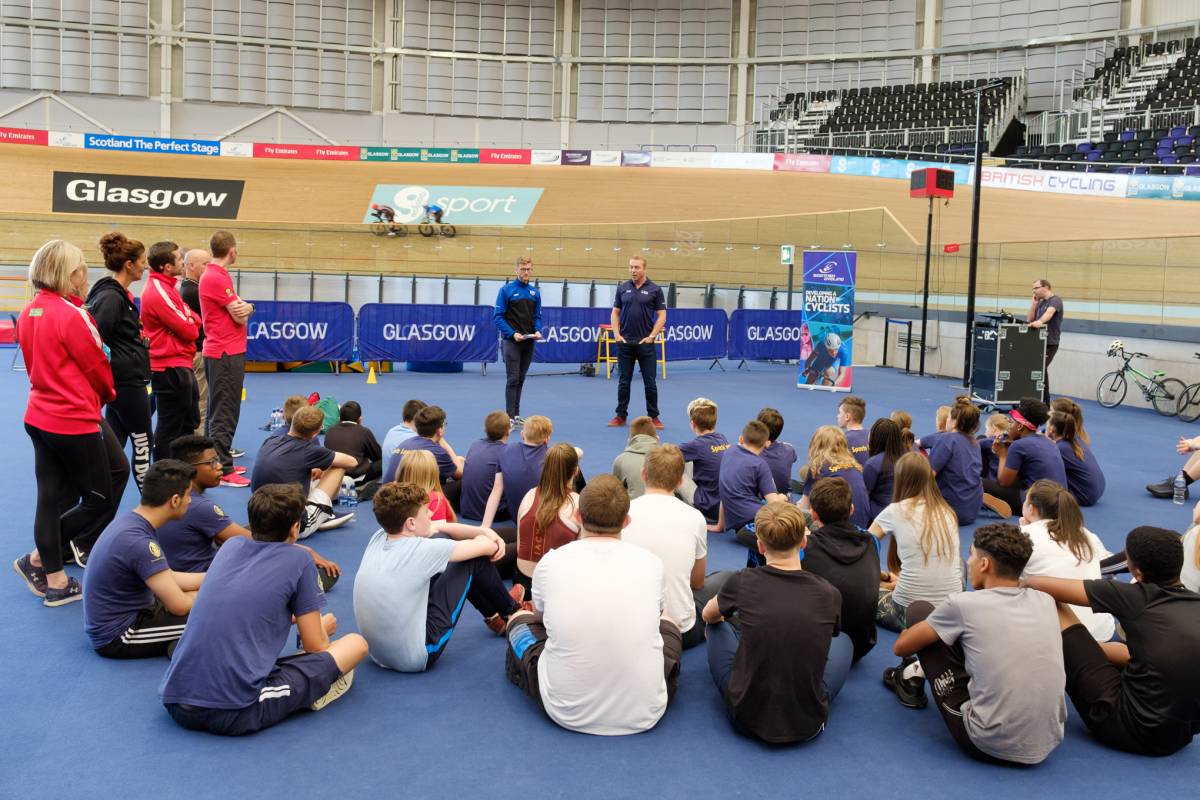 Date: October 29, 2021
Scottish Cycling recognizes the important role that a range of female role models have in sport and the different roles they fulfill in sport. On Day 5 of Women and Girls in Sport Week, we wanted to highlight one of the many important roles within our clubs, the Welfare and Protection Officer, to understand how this role has played out. impact positively on the many women and girls in sport and Unpack the role workings within one of our clubs.
To do so, Ross McGowan, Scottish Cycling Protection and Compliance Officer, spoke to Lesley Archibald, Falkirk Junior Bike Club Welfare and Protection Officer and asked a series of questions for learn more about how she became responsible for welfare and protection, how she considers this important role in clubs and what she would say to women and girls who are considering getting involved in cycling, not necessarily as participants.
RM: HHow did you get involved in cycling and how / why did you become responsible for welfare and protection for the Falkirk Junior Bike Club?
Lesley: "I got involved in cycling after my son joined the Falkirk Junior Bike Club 5 years ago. He's been a member since day one! I had been involved in setting up two youth sports clubs and had child protection and welfare roles in both clubs. to help.
How would you describe your role as a welfare and protection officer and how important do you think it is to have the role of welfare and protection officer within the club?
"We have two WPOs at FJBC – I run WPO and Tom supports WPO. We're here to make sure the club is a welcoming environment for everyone. At FJBC, we make sure we're visible from day one, by hosting introductory sessions with parents / guardians of new riders where we can introduce ourselves and explain our role within the club.We also make sure to promote the club's welfare and protection policies, and that families know where to find our contact details in case of need get in touch.
"It is important to be approachable and accessible so that everyone can feel comfortable coming to us with protection concerns. We are there for everyone at FJBC – our runners, their families and the team of coaches and management.
"To that end, we have a man and a woman just in case someone has a preference or a need to approach someone of their own gender. I think it is also good practice to have 2 WPO one or both of which is a parent of a club runner because we need to be impartial.
"The WPOs make sure the club operates safely by ensuring that we adhere to all Scottish cycling policies and have improved this by writing our own club codes of conduct for riders, parents and coaches. We ensure that coaches and volunteers who perform regulated work for the club are PVG verified (age appropriate) and that all the coaching staff and club assistants undergo mandatory training regarding well- being and protecting children Tom and I are proactive in developing ourselves and promoting other courses to our coaching and management team.

Would you say that your role as the welfare and protection officer for the Falkirk Junior Cycling Club has had a positive impact on the women and girls involved within the club?
"I hope this shows that being involved with a club can be a lot of fun and very rewarding. I don't get involved in any cycling, but I meet new riders and their parents when they join the club, and I can It's important for a WPO to be recognizable and accessible, so I try to be there as often as possible.
What challenges have you encountered in your role as the Wellness and Protection Officer for the Falkirk Junior Bike Club during the covid-19 pandemic?
"Initially the biggest challenge was being locked up and not being able to be together as a club. However, FJBC virtually got together for a lot of activities and our online forum was busier than ever with photos. of what our runners had been up to. So Tom and I leveraged that and made virtual connections with our runners, their families, coaches and volunteers by sending emails explaining what virtual wellness and protection meant for us, and how we could still support them, also regularly shared the youth and family mental health support signage to everyone, just in case someone needs specialized support.
"In addition to the challenges, there were many opportunities to educate and develop ourselves. We have also undertaken mental health awareness training for sport and physical activity, Covid-19 psychological first aid and psychological first aid for children and youth. We also encouraged our coaches and volunteers to do the same. We did this because we wanted everyone to be aware that confinement can have negative effects on the mental health of young people, and we wanted to prepare for it. We wanted everyone to feel comfortable and confident returning to the activity, knowing that FJBC was ready and able to support each other, our runners and their families.
What would you say to women or girls who are considering getting into cycling, not necessarily to participate but perhaps considering roles similar to yours, and what benefits do you see cycling having on women and girls? ?
"As someone who rides a bike very rarely, I'm in awe of the girls I see during our club training sessions. Watching them grow in ability and confidence over the years has been fantastic. It's also been amazing. inspiring to see their friendships grow and to see how they support and reinforce each other. This is evident from the club level, right down to the national races I compete in.
"As the mom of a junior male XC and CX rider, I have had the privilege of meeting so many young women and girls competing at a high level who are such great ambassadors of cycling. The support they give each other is huge and seeing them compete under the same conditions as male runners is truly inspiring.
"Cycling is historically so stimulating for women, and whether we cycle to work, for play or for sport, it is a great legacy to see that still evident today. more equality in sport, but it's rightly challenged, and I'm confident it will come.
"For women and girls who are like me, there is still a lot of empowerment to be involved in cycling on a different level. I am very proud that there is a high proportion of women on the team. coaching and leadership from FJBC and I am hopeful this inspires our riders and their families to get involved in cycling in other ways.
"If someone had told me 5 years ago that I would be so involved in cycling, I would never have believed it, but here I am. I don't have to be a cyclist to play my part in the development of women and girls in sport. I love being part of the FJBC family, and I hope that being present and championing the sport from the sidelines helps inspire others to get involved. "
For people who want to get involved as a responsible for the welfare and protection of the club and what the requirements are to take on such a role. You can find more information on Scottish Cycling's Wellness and Protection pages here, which also includes a wide range of advice on advice on wellness and protection practices and how to contact Scottish Cycling officers. welfare and protection from Scottish Cycling if you need it.