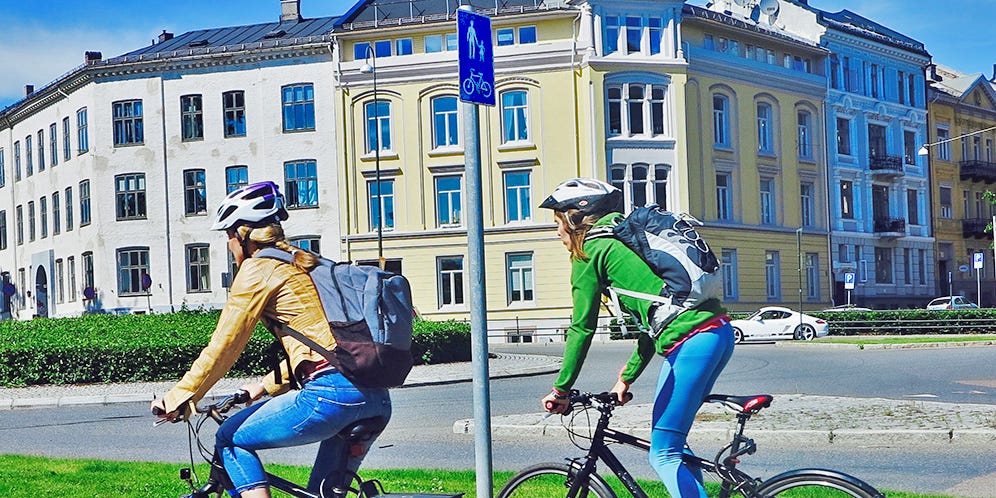 Norway invests $1 billion in cycling infrastructure
In a bid to halve its transit emissions, Norway announced it would spend 8 billion Norwegian kroner, or about $935 million, on a cycle highway network.
The recently announced plan calls for 10 wide two-lane cycle paths that will cross the country and pass through Norway's nine largest cities, according to City Lab. The size of the lanes is designed to allow cyclists to travel at relatively high speeds (around 25 mph), which would allow for longer journeys.
RELATED: The coolest bike infrastructure in the world
The trails are meant to take cars off the road and make cycling more attractive for Norwegians. In 2010, only 4% of all trips nationally were made by bicycle. The country's closest neighbors had significantly higher commuting rates: 17% in Denmark and 12% in Sweden. While Norway's numbers have risen slightly to 5% in 2014, government officials still want more: the aim is to increase the share of cycle trips in the commuting pie to between 10 and 20% of journeys by 2030.
This content is created and maintained by a third party, and uploaded to this page to help users provide their email addresses. You may be able to find more information about this and similar content on piano.io