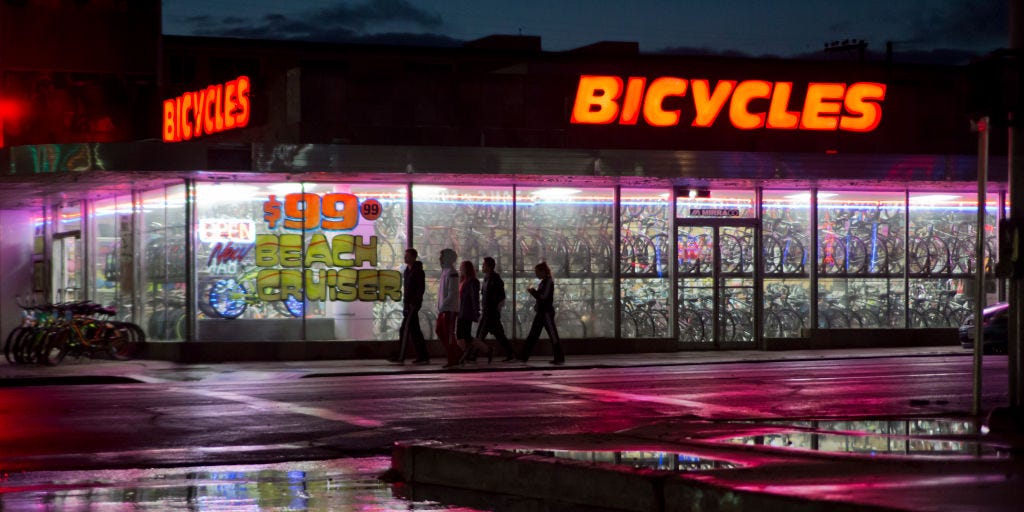 Cycling equipment is expensive, but not expensive enough
Cycling is expensive. Like, really expensive. But you already knew that. Michael Frank, my former boss when he was editor-in-chief of Mountain bike magazine (RIP), has an article on Gear Patrol that attempts to answer the eternal question:Why are bikes so expensive?
Making a story like this presents a somewhat inescapable challenge: you ask people whose business it is to sell expensive stuff why their stuff is so expensive. Guess what? They have polite and reasonable answers!
The damning message from Frank's story is the same one I've heard time and time again from many sources: "good" bikes are expensive because they are expensive to make. There is a lot of engineering time, premium materials, many hours of skilled labor, tight tolerances, the expectation of perfect workmanship and jewelry-like details, and volumes. relatively weak.
I especially liked this passage, "When [Chris] Cocalis shows someone one of Pivot's $ 10,000 mountain bikes, he will hear people shouting, "I could buy a motorbike for that!" Which, he admits, is true. "But is there a motorcycle with a carbon frame, carbon wheels and suspension components comparable to a high-end mountain bike? Yes. This is called the Ducati Superleggera V4. It fits quite well and it costs about $ 100,000. '"
I own a motorcycle that costs as much as a bicycle: a Ducati Scrambler that had a retail price of $ 8,495 when I bought it in 2015. And when I get up close, the finishing work looks like the crap: less than a $ 1,200 bike. The Scrambler's suspension technology is rudimentary compared to that of an $ 8,500 mountain bike. The controls on my Ducati aren't as crisp or precise as those on the Shimano XTR or SRAM XX1 that I would expect to find on an $ 8,500 mountain bike. Not even close. An $ 8,500 bike is undeniably better quality and better made than a $ 8,500 motorcycle. Additionally, a motorcycle has ongoing registration and insurance fees. A bicycle does not work.
Still, I sympathize with the many (many) people I hear about when I write a review for a high-end bike, because I often feel like the sport I love is getting paid for. I am not only a journalist – a profession not known for its high salaries – but a journalist in the bicycle industry, a sector known for its low salaries. My wife, who is also an avid cyclist, is a third grade teacher at a Colorado public school. It is a low paid profession in a state ranked last in the countryfor wage competitiveness.
We are doing well and we are not poor. But neither are we able to buy top-of-the-line bikes without getting into dangerously debt – and we don't even have children. We both love to ride on roads, mountains, gravel, cross country and move around a pretty town. Equipping this household with a new fleet of "good" bikes could easily cost $ 50,000 or more. And that's before taking into account the clothing, helmets, goggles, brackets, tools and all other equipment that surrounds this sport.
And then there are the unexpected expenses of sport. Cycling comes with risks and everyone involved will end up hitting the ground. Few years ago,my wife and I both suffered serious injuries in separate bicycle crashes, resulting in hundreds of thousands of dollars in medical bills. I had another serious accident in August 2020 which resulted in six broken ribs (one in two places), a bruised kidney, and a three-day hospitalization. Fortunately, we both had insurance, but we still incurred high costs. Our savings have been hit hard and delayed our retirement planning by several years. And something like that could very easily happen to one or both of us.
So I understand the festering rage when we publish story after story about new bikes $ 10,000 and up. Who can afford this shit? Certainly not me.
But even as expensive as the bike is, I'm about to say it should be Following Dear.
As I said, the cycling industry is known for its low wages. While many on the inside might make more money in other industries, they are less willing to accept being a part of something that makes them happy. But many can only do so for so long before they are forced to move in order to secure their future or start a family. I know this because I have met these people, and I have considered leaving the industry myself for the same reasons.
Bicycle stores in particular struggle to keep good employees, as the margins on sales are so slim – even with a full retail margin – and labor rates are forced so low that they don't. cannot offer competitive salaries or the benefits that encourage the right people to stay. In 2014, Fred Clements, executive director of the National Bicycle Dealers Association,wrote an articlein which he quoted bike shop wages and seemed to reinforce the old joke: "How do you make a million dollars in the bike industry?" Start with two million.
According to Clements' post, "A junior mechanic earns an average of $ 15,336 per year and a senior mechanic $ 27,606. Junior salespeople earn an average of only $ 15,000 per year and senior salespeople $ 27,622. What about store managers? They earn $ 40,301 per year. The average bicycle store owner earns $ 49,877 per year.
I just completed a review of a Pinarello Dogma F that carries a suggested retail price of $ 14,500. The bike costs almost as much as Clements' estimated annual salary for a junior mechanic.
The next time you hit a hill at nearly 50 mph on a 16 pound road bike, wearing little more than underwear and a foam cooler on your head, about to pull the brakes to rub speed for an approaching bend, on roads you share with two-ton SUVs, think about this: do you want the bike you worked on underneath to be given to a minimum wage transition worker? Or a seasoned professional who is appropriately paid, trained and certified to work on extremely light and precision equipment?
Because, as a former workshop mechanic and service manager, there are a lot of firsts and not enough seconds. So please don't complain about the $ 120 labor rates or tune-ups.
These are just the first few lines. Because cycling equipment, especially carbon fiber parts, is very laborious to manufacture, many cycling equipment is made in low-labor countries, some with questionable track records in manufacturing. human rights.
Joe Lindsey, a frequent Bicycling Contributor toan excellent piece(is there any other type of Joe Lindsey play?) Outside magazine about the ongoing battle of the outdoor clothing industries to ensure factory workers are treated and paid fairly. Executive Summary: It's very complicated. Even companies like Patagonia and Prana are struggling – and these are companies that stress the need for fair treatment of the workers who make their products.
At least in the outdoor industry, there are many players actively talking about factory conditions and (apparently) trying to do better. This is hardly a conversation in the bicycle industry. Talk about the welfare of factory workers building carbon frames in China, Indonesia or Vietnam at a bike industry rally, and the reaction you'll likely see is a whole bunch of white dudes staring at the ground and awkwardly kicking dirt. It's (probably) not that people in the bike industry don't care – sport is built on fun, happiness and well-being – but because they know that any layer, process or added audit in the flow of raw material to the finished product will make an already expensive sport even more expensive.
Am I convinced that if people accept higher prices, the money will go where it should go to improve the quality of life of the lowest paid and the most vulnerable and not get sucked in by executives and middlemen? No. I'm actually quite cynical: the bike industry has a lot of Gordon Gekkos. But I've also seen that change is possible when the money is there for change to happen.
Here's the uncomfortable truth: if we think only suckers pay retail, if we always ask for a deal, if we always take our bike to the store with the cheapest labor rates, then we are hurting the sport. . We are chasing people who could improve it; we prioritize our desire to do cool shit over the health and safety of other human beings. How long will we be okay with this?
This content is created and maintained by a third party, and uploaded to this page to help users provide their email addresses. You may be able to find more information about this and other similar content on piano.io