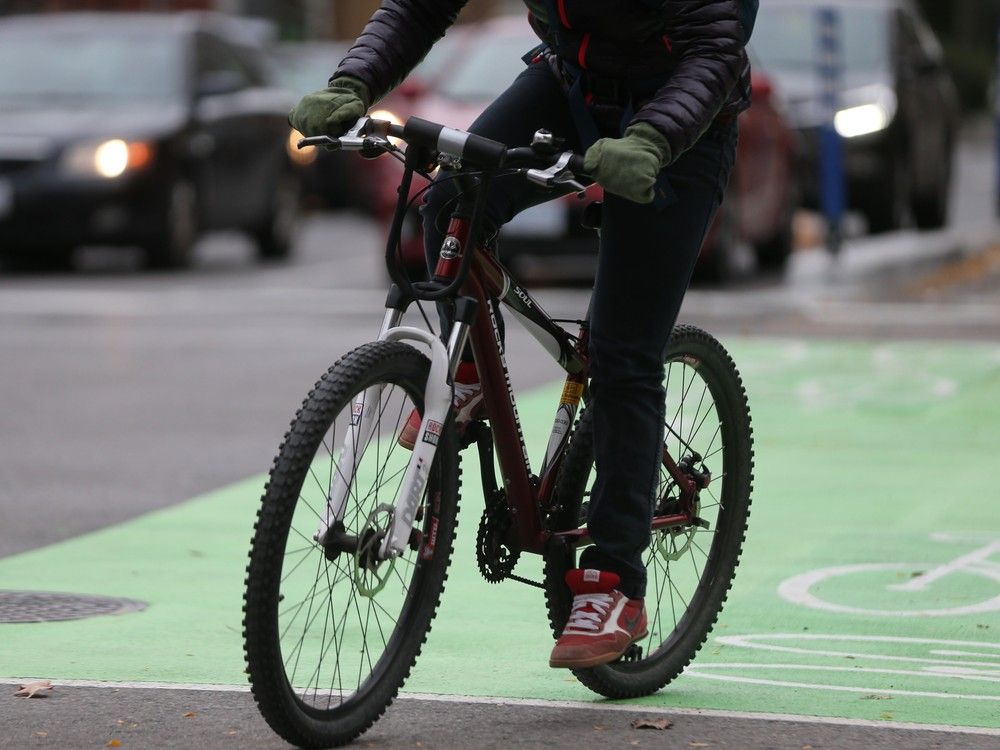 Bechard: Here's why Ottawa needs better cycling infrastructure
Content of the article
Transportation can be the defining issue in our municipal elections. These debates have become a simplistic battle between cars and bikes, leading some to question whether a "war on cars" has been proposed. I'm sorry to inform you that the cars have already declared war on the people of Ottawa — and the cars are winning.
Content of the article
As a pediatric emergency physician, I have witnessed the damage cars can do to small bodies. It's hard to justify putting more cars on the road when a family had to be told their toddler had a brain hemorrhage because a driver couldn't be bothered to stop. The carnage is not limited to children. In 2020 alone, 135 people in Ottawa died in a collision: this includes cyclists, pedestrians and people in motor vehicles. It's mind-boggling to consider that the equivalent of seven hockey teams were killed in our city in one year when so many of us were cutting our travels.
Content of the article
Injuries aren't the only way cars fight their battle against the human body. Traveling by car instead of active means like walking or cycling is associated with poorer physical fitness and health-related quality of life, higher body mass index and poorer mental health . Traffic-related pollution increases the risk of developing asthma in children.
Content of the article
Cars are also hurting our wallets, especially in this time of record high gas prices. Reducing our dependence on oil is crucial for Canada's resilience as geopolitical unrest threatens global supply chains. A future-oriented city allows people to be less dependent on the car.
The choice of transport is certainly important. But right now, the extremely easy choice for many Ottawans is to travel by car. Our cycling infrastructure is disconnected and insufficient. Despite the promise of the O-Train, our public transit resources are so limited that public transit remains an option of last resort for many.
As someone who lives, works, bikes, walks and drives in Ottawa, I fully understand the need to reduce traffic. Fortunately, other cities have discovered the secret weapon to reduce congestion: cycling infrastructure. Bike paths benefit both motorists and cyclists. Studies in New York have shown that replacing traffic lanes with protected bike lanes reduces travel time for cars on affected streets. On the other hand, widening roads to build more lanes for cars actually increases traffic congestion through induced demand. Easier driving leads to more drivers. Supporting other transport options reduces the number of cars on the road.
Content of the article
There will always be people who need or prefer to drive cars. There is no shame in driving. But allowing people who would prefer other options to use them makes the transit experience better and safer for drivers and cyclists.
Some people believe that Ottawa will never be a world-class city for active transportation because of our long, freezing winters. Over the past year, I can count on one hand the number of times I've driven a car to work. If an asthmatic woman in her 30s who hates the cold can ride a bike all winter, chances are that many more people would too, if they had access to supportive infrastructure. Moreover, the climate of Montreal is not more forgiving than ours. Montreal has established an exceptional cycling network during the COVID-19 pandemic and has committed $36 million to continue its growth. Let no one ever say that the people of Montreal are tougher than those of Ottawa.
We may not have asked for it, but the war on cars is here. The cars have all the trumps in this one-sided fight. Fortunately, we have the tools to win. We know how to build a healthier and safer city. When you vote in the upcoming municipal elections on October 24, think about where your candidates stand in this war of cars against people.
Melanie Bechard (she) is a pediatric emergency physician in Ottawa and holds a Masters in Public Health from Johns Hopkins University. Twitter: @bechardmel