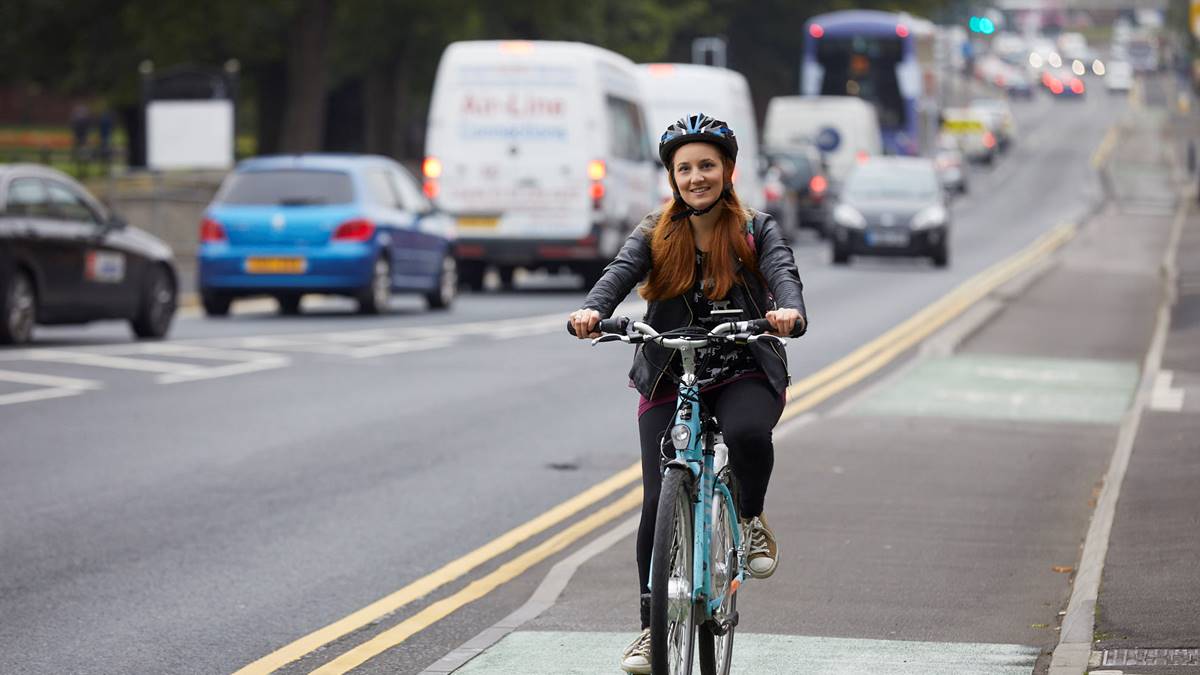 Advanced work on the 'ambition' of West Yorkshire's 500 mile cycle infrastructure
[ad_1]
In response to the need to provide cycling infrastructure to absorb the loss of public transport capacity, works were advanced on the "ambitious" plans of West Yorkshire.
The £ 6.9million development has now started with workers busy at Claypit Lane in Leeds where separate cycle paths are being laid. Many more could follow as well, Leeds City Council's Connecting Leeds 'Cycling Starts Here' campaign speaks of up to 500 miles of safe cycle paths throughout the region in the future.
Deemed to be "emergency" works, the West Yorkshire Combined Authority and Leeds City Council hope to see 5.8 kilometers of new operational lanes in the near future to allow citizens to maintain a safe distance while the threat of Covid-19 persists.
Elsewhere in the UK, Sustrans is mapping an increase in temporary infrastructure projects, garnering feedback in hopes of making them permanent.
The Clay Pit Lane Improvements consist of a 1.3 km section where walking and cycling were made safer by segregating a route that stretched from Woodhouse Lane to Chapeltown Road. The new tracks will connect to the existing infrastructure on Meanwood Road and provide safer conditions on the inner ring road.
In the city's south, summer work is expected to add three kilometers of separate trails between Elland Road Park and Ride and downtown.
"These important projects will provide the communities of Beeston, Holbeck and Hunslet, as well as those in the north of the city, with high quality cycling and walking routes and the Dewsbury Road project will provide a major missing link in the existing network to create a continuous 4.4 km separate road to south Leeds, "said Cllr Kim Groves, chairman of the West Yorkshire Combined Authority transport committee.
"By 2027, we aim to increase the number of trips made by the inhabitants of our region by bicycle by 300%. This will not only improve people's health and save them money, but will also help us achieve our goal of being a net zero carbon economy by 2038 at the latest.
Councilor Lisa Mulherin, Executive Member of Leeds City Council for Climate Change, Transport and Sustainability, said: "In these difficult times, we are working hard to make walking and cycling more attractive and natural choices for people. exercise and daily commuting.
"We are delighted to move forward with the construction phase of these projects for new separate cycle paths south of the city connecting Beeston, Holbeck, Hunslet and the city center, as well as major work on Clay Pit Lane and Meanwood Road. . Each new separate cycle path in Leeds brings us closer to the 500 miles of cycle network we aim to provide across the city.
"In this phase of Covid-19 recovery, Leeds is creating many other new routes that provide improved safety for people walking and cycling, providing convenience and defending the health and well-being of our residents. Along with improving the separate cycle paths, the project will improve the environment for pedestrians. This CityConnect-funded work will improve environmental sustainability, better air quality and reduce pollution of all types in and around Leeds. We look forward to seeing the projects completed later this year. "
Funding for the project comes from a £ 6.5million grant from the Leeds City Region Enterprise Partnership, provided in partnership with the West Yorkshire Combined Authority through the Leeds City Region Growth Deal – a £ 1 billion scheme designed to create jobs and accelerate growth in the region. .
[ad_2]